Holiness in our Midst: Session 130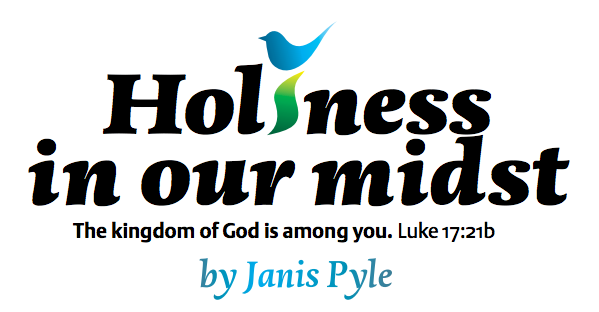 SESSION CXXX: ON 'A COMMITTEE OF ONE'
Story Circle Prompt: When did you take action as a "committee of one?"
The phrase "committee of one" came from Opal Lee, 96, often referred to as "the Grandmother of Juneteenth," as she was being interviewed by CNN on June 19 of this year. She was calling attention to the power of a single voice when a cause seems daunting. Lee herself captured the world's attention by a series of walks from Fort Worth, TX to the U.S. capital, beginning in 2016, to advocate for the national holiday to commemorate the end of slavery in the United States. Influenced in part by her efforts, President Joe Biden signed a bill declaring June 19 a federal holiday in 2021.
My lifelong passionate interest in the cause of homelessness began when I was a "committee of one." In the mid-eighties, when I lived in downtown Chicago, the city's estimated 25,000 homeless were increasingly visible. It became the daily norm to see street people sifting through trash barrels for edible waste. My first, unreflected reaction was anger: Couldn't these people help themselves? And, what about the authorities, weren't they going to do something? When I realized the answer to both questions was no, I began a personal "policy" to deal with daily requests for money:
I would always carry extra bills in my pocket and give at least a dollar to any person who asked for help.

I would always look the homeless in the eye and smile.

I would always treat the homeless with the dignity and kindness I afford to family.
Once it was forged, I followed my three-point "policy" while I lived in Chicago.
One homeless man caught on fast to my altruism. George, an African American man in his early thirties, positioned himself along my path. I found myself aiding him almost daily for a year and a half. The written and spoken account of our unlikely friendship, called "George of the Streets," has impacted homelessness awareness in communities in Illinois and Iowa. George taught me many life lessons as he managed, at least for a while, to live a satisfying daily life against enormous odds. His story still propels me to action; today I am on the community board of Good Neighbor Emergency Assistance, a non-profit offering emergency rent, utility, gas and food assistance in my county.
Have you championed an idea or cause by yourself, at least at first?
FOR PERSONAL/JOURNAL REFLECTION:
Read the above reflection. In your journal, answer the following: When did you take action simply because you believed in a cause or an idea? What happened next?
FOR GROUP STUDY:
 Read aloud Session CXXX.
 Ask each person to answer the Story Circle Prompt.
Holiness in Our Midst: Sharing Our Stories to Encourage and Heal is a monthly on-line feature created by Janis Pyle to facilitate sharing of our personal experiences, thoughts, beliefs, and spiritual practices with one another, especially through stories. Barriers are broken down when we begin to see all persons, even those with whom we disagree ideologically, as sacred and constantly attended to by a loving Creator. Each column is accompanied by a "story circle" prompt and study guides for personal and group reflection. To share your stories, contact Hannah Button-Harrison at communications@nplains.org. Janis Pyle can be reached at janispyle@yahoo.com