Hammond Avenue Church Calls New Pastor: Dane Mauslein
Tim Button-Harrison, District Executive
de@nplains.org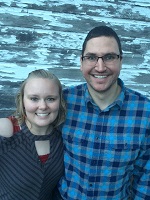 On December 10, 2017, Hammond Avenue Brethren Church (Waterloo, IA) called Dane Mauslein as their new pastor.  He is from Nebraska and Kansas, is married to Caitlin, and recently graduated from Ashland Theological Seminary in Ohio with an M.Div. degree.  Dane and Caitlin arrived in Waterloo January 20, he officially starts February 11, and his installation service is February 18 during worship followed by a Soup for the Soul meal.  Tim Button-Harrison, Church of the Brethren District Executive, will preach the installation sermon, and Lee Compson of the Brethren Church will lead the installation.  District folks are encouraged to attend the installation service and/or send notes of welcome and support to Dane and Caitlin Mauslein, 1614 Hammond Avenue, Waterloo, IA 50702 or Pastor.HABC@gmail.com.
Last year Hammond Avenue's Pastor Larry McKinney announced his plans to retire.  He began his ministry with Hammond Avenue in April 2012 and the congregation held a special celebration of his ministry on January 21.  Notes of appreciation for his ministry and involvement in the district may be sent to Larry and Linda McKinney, 2209 Cypress, Cedar Falls, IA 50613 or lmckinney@cfu.net.
Dane Mauslein shares the following on his background, work and education.
"I was born in Falls City, Nebraska and was raised in Hiawatha, Kansas. Growing up, I attended Falls City First Brethren Church. In May of 2009, I graduated with my Associate of Arts degree from Highland Community College (HCC) in Highland, Kansas. While there, I was an academic tutor and also a member of the Academic Excellence Challenge team. I was also a member HCC's Track and Field team. After graduating from HCC, I continued my education at Washburn University in Topeka, Kansas. My time at Washburn was quite fruitful. I was an AmeriCorps volunteer at a community-based resource organization, known as Let's Help, Inc. I served people pursuing their general education degree and helped in several other areas. Also, I was able to complete an addiction counseling internship of over 700 hours with Valeo Recovery Center of Topeka, Kansas.
"I graduated from Washburn University with a Bachelor of Applied Science in Human Services with an emphasis in Addiction Counseling, Summa Cum Laude. Prior to graduating I was licensed within the State of Kansas as an addiction counselor. Most important of all my wife, Caitlin, and I met during our time at Washburn, as Caitlin was also studying to be a nurse. Upon graduating in December of 2011, I moved to Norton, Kansas to work as a Licensed Addiction Counselor for Valley Hope, a nationally-recognized residential addiction treatment program.
"After reconnecting, Caitlin and I were married on June 8, 2014. We then moved to Ashland, Ohio where I recently completed my Master of Divinity degree this past December. We were able to actively participate in ministries at Park Street Brethren Church in Ashland, Ohio. I also had the privilege of serving Trinity Brethren Church of North Canton, Ohio as their Intentional Transitional Pastor. Caitlin and I are now settling into Waterloo, Iowa. We are excited to engage in what God is already doing at Hammond Avenue Brethren Church and the surrounding community."